Our mission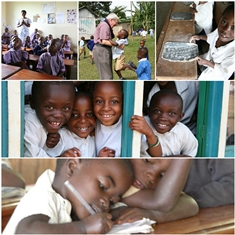 For each child to live a life with a smile and love,
and a dream for the future by studying,
so that a chain of smiles would spread.
Today, the world is in a critical situation. There are a lot of people who suffer from natural disasters and many conflicts between governmental forces and armed groups. They lost precious families and jobs, and they also suffer from poverty, hunger, illnesses and violence.
It is very important that the children are raised with love and in peace, but they are deprived
of the chance. We would like to support children who face many challenges, mentally and physically, so that they may live lives with a smile and have dreams for the future, and we will keep providing support so that we can place our hopes on the children for the future.
We believe firmly that supporting children is the way to world peace.


History
Cambodia has been in a state of chaos for a long time even after the civil war ended. It was in 2001 when Fr. Cangas (Jesuit) and Fr. Takayama (Jesuit) visited Cambodia with seven high school students.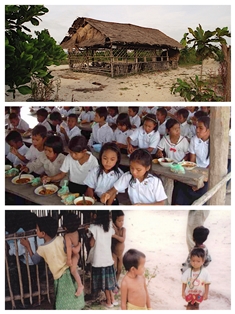 They met many children who were injured by landmines and who were starving. Eighty students aged 6-14 years were studying at a school in the rural part of Cambodia which they visited. They were served a loaf of bread and a plate of soup on the last day of the semester. The children who were not old enough to enter school looked at them enviously from the outside of the classroom without walls. And then one student broke a piece of bread and gave it to one of the children. The child also broke a piece of bread and gave it to another. They shared a little bread, understanding the pain of famine. Seeing this, Fr. Cangas took a firm decision to help these children and started the aid project. After he came back to Japan, he established a group of people providing support, the "A friendship in Battambang", but this group will be dissolved by the end of December 2019. And "Kids & Smiles" was established on the 12th of October, 2018, continuing the spirit of supporting many children overseas who are waiting to be helped.

Support destination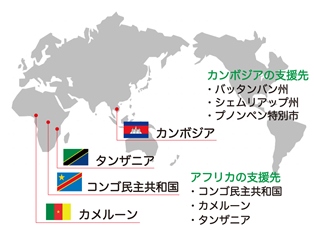 We focus on African countries, especially the eastern part of the Democratic Republic of Congo and the rural areas of Tanzania with water problem. In Cambodia, the gap in wealth remains high, with a significant percentage of the population living in deprivation, although forty years have already passed since the miserable civil war of the Pol Pot government ended. The educational environment for children in rural areas is not developed. We provide support to poor villages, especially in Siem Reap, Battambang, and Phnom Penh.

Our support
We plan to implement projects that meet the local conditions and demands, such as:

Support for education


Scholarships


Support for teachers, teaching materials, and educational facilities


Assistance


Food Program for improvement of nutritional intake (rice soup program)


Medical advice and hygiene and grooming information


Support for the independence and professional training of women and the youth


Assistance for life at home


Assistance for supply of clean water

Our organization
Name:Kids & Smile (General incorporated association)
Established:October 12, 2018
Chief Director:Hiromitsu Takei
Vice Director:Momoko Sato
Directors: Misato Shibazaki, Shinichi Negami, Takako Murata, Yuri Tanaka
General Auditor: Hikaru Oguchi
Lawyer: Souhei Hanawa (Rinoha Sogo Law Office)
Honorary Advisor: Luis Cangas
Number of staff: 12 (Tokyo, Yamaguchi)